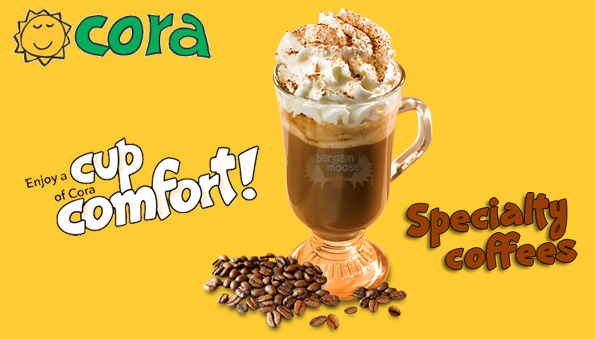 Satisfy your breakfast and caffeine cravings all at the same time with a brand new printable from Chez Cora for a free specialty coffee with purchase of any meal over $7.
I have to admit that I haven't been to a Chez Cora restaurant in a while but I used to go quite frequently and from what I can remember, a specialty coffee is a bit over $5 (though please correct me if you know the exact price). They have everything from a cappuccino to an espresso, a latte and even a mochaccino.
For anyone with a sweet tooth, I would definitely recommend a mochaccino since it's basically a hot chocolate with caffeine in the form of an espresso. In fact, did you know that just a single shot of espresso replaces a whole cup of coffee? That's how potent that yummy stuff is!
The great part about this promotion is that the minimum requirement for the coupon to be valid is actually quite low, meaning that you could use it on just about any meal, from either their breakfast or lunch menus. Personally, I love the Chez Cora special but their Raspberry 4 Lucie plate is one I would also recommend as it's literally heaven on a plate (though perhaps not the healthiest choice if you're watching your waistline).
In any case, there is plenty to choose from to take advantage of this coupon! What is your favourite meal to have at Chez Cora?
(Expiry: 6th April 2014)