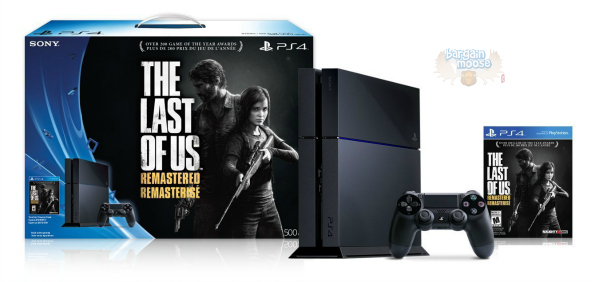 The extra 20% off with Visa Checkout deal at Chapters really is one of the best offers around. If you are in the market for a new PS4, then head over to Chapters Indigo and pick up The Last of Us: Remastered PS4 500GB Console bundle. Originally $449.99, the Last of US PS4 bundle comes down to just $359.99 after Visa Checkout discount.
While I do not doubt that this is the best deal available, I made sure of that by price comparing with other online retailers. Here is what The Last of Us Remastered PS4 Bundle retails for elsewhere.
$449.99 @ Amazon Canada
$449.99 @ Walmart Canada
$449.99 @ Best Buy Canada
$449.99 @ EB Games Canada
$449.99 @ Sony Store Canada
I could not find one other store that had even a discount on the PlayStation4 The Last of Us Remastered Bundle. I checked out eBay - home of great deals - and found many of these consoles still retailing for over $400 there, even when the box had been opened.
I have not had the opportunity to play the new PS4 console, but it is the natural step up when our current PS3 dies. However, I rather refuse to pay a boatload of money for a device I mainly use to watch Blu-Ray movies and play less than a handful of console games upon. This deal is much closer to what I would consider paying.
Chapters Canada does not have any reviews of the bundle, so I borrowed one off Walmart:
The hardware is beautiful and 'The Last of Us' is one of the best game I've ever played. Item arrived in perfect condition.
Another reviewer at best Buy Canada pointed out some of the advantages to purchasing a bundle:
It comes with a year free of playstation plus which in itself makes up for the price, which is still a great price. With the free year of playstation plus you get free games every month from playstation for FREE.
It is important to note that the Last of Us game is a digital copy, not an actual physical disk. This is what several reviewers have been saying (and rather disappointing about). The box set comes with a DUALSHOCK 4 wireless controller, HDMI cable, power cable, wired mono headset, USB charging cable, the console, and The Last of Us Remastered digital voucher.
Either ship to your local store for free or shell out a few extra dollars for shipping to home. Either way, this deal is worth it!
(Expiry: 31st May 2015)