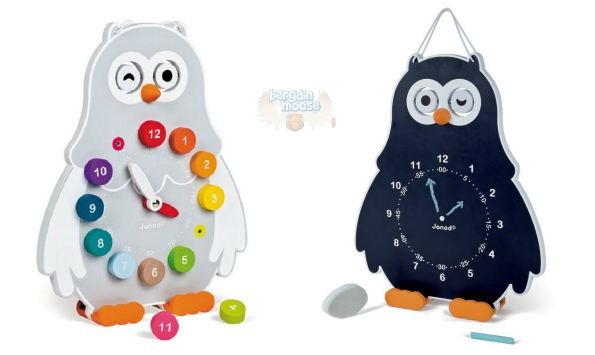 Chapters indigo has discounted this popular tell-time clock for kids. Originally $49.95, the Janod Owl Clock is now on sale for $25 and will receive free shipping to your home.
The Owl Clock is a double-sided clock with a black-board on one side and number pegs on the other. On the blackboard side (black), your child can write their own times on the clock face. On the other side (white), your child can remove the clock arms and remove the numbers as well. The owl eyes also move and the two-sided clock is great for teaching children time, numbers, and the concept of day and night.
This colourful little own clock can also help children with their colours. The owl's eyes can be flicked around for added fun. This clock comes with chalk and a chalk board eraser. It is designed for children 3-years old or more.
I price compared this clock with other online retailers. I literally could not find the clock discounted anywhere else. Most places, you also have to pay for shipping, thus this deal from Chapters Indigo becomes even better. Here is a rundown on the prices elsewhere:
$49.99 @ Tag Along Toys Canada
$49.99 @ Westcoast Kids Canada
$49.99 @ Brainstand Canada
$54.99 @ Well.ca
$54.99 @ Lussobaby Canada
$55 @ Modern Caribou Canada
Resellers on Amazon and on eBay are charging far more for this clock.
I am very pleased with this deal because it is such a cute and useful toy at a great price for parents. They toy is aimed at children ages three to four years old, but it is good for children up to seven depending on your child's learning curve and grasp of the numbering system.
The owl is made out of wood and features a carrying handle for easy transportation. Because the owl is wood, it should last an incredibly long time and will be one of those hand-me-down toys from older child to younger child. When your child has outgrown the toy, it will still be in good enough shape to donate to others or re-sell in a Mom's Swap group like the kind that are found on Facebook. Wooden toys are really popular again and this little owl clock is an excellent deal.
(Expiry: Unknown)