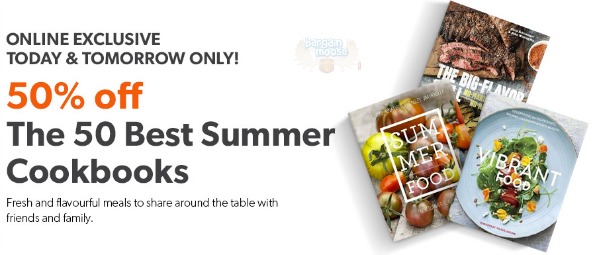 Chapters Indigo Canada is offering a pretty sweet online exclusive for just today and tomorrow only.  Get summer cookbooks for at least 50% off the regular prices.
As I started looking through the cookbooks included in this deal, I noticed something funny.  None of them are actually on sale for 50% off.  In fact, all of the are priced at 52% off or higher, which make this sale even better. Every single book was between 52% off and 55% off the regular prices. It is funny how companies sometime don't advertise correctly but this time, it is in our favour!
With this deal, Chapters Indigo Canada has included the best 50 summer cookbooks.  This is a  great time to grab some gifts for birthdays coming up for friends and family members that love to cook.
If you are shopping for someone that loves to grill and BBQ in the summer, you may want to check out this cookbook.  The Big-Flavor Grill was priced at $29.95 and is now on sale for just $14.22.  This price is 53% off the regular price. It offers no-marinade, no-hassle recipes for delicious steaks, chicken, ribs, chops, vegetables, shrimp, and much more.
I have been looking for a healthier way to cook and eat for my family so this True Food: Seasonal, Sustainable, Simple, Purecookbook caught my eye.  The regular price for it is $21 but it is on sale right now for just $9.98.  That ends up being 52% off the regular price. It is a #1 bestseller that presents seasonal, sustainable, and delicious recipes from Dr. Andrew Weil's popular True Food Kitchen restaurants.  It actually just came out this year in April so it a a great new cookbook to take a look at for healthy eating.
Lastly, The Madhouse Cookbook: Delicious Recipes For The Busy Family Kitchen is a great cookbook for families on the go.  It's price is $26.95 and it is on sale for 53% off the regular price right now making it just $12.80. I am a very busy mom as I am sure most of the mom Moosers out there are and this is a great way to prepare healthy meals on the go for the busy family.
You will get free shipping for all of your purchases that are just $25 or more.
(Expiry: 10th July 2014)