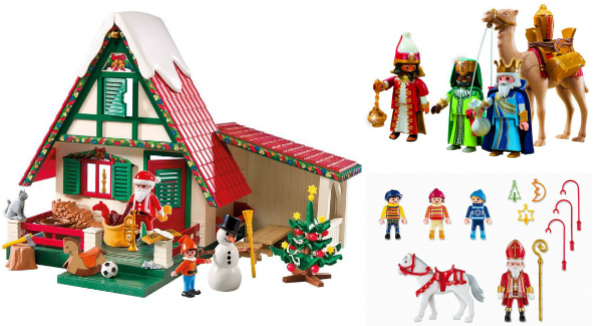 Today, Chapters Indigo starts their five days of toy deals with a new toy deal every day. Save 20% on a Playmobil toys at Chapters – today only. Now is a great time to shop Christmas-themed Playmobil such as advent calendars and more.
I am totally into advent calendars and I know that Playmobil puts out a couple calendars each year. This year, you can buy the Playmobil Advent Calendar Santa's Workshop from $29.95 down to $23.96 today only. Believe it or not, the same advent calendar is currently $44.63 + shipping in the Amazon Marketplace. One seller ships through Amazon, but they are charging $59.99 for the same set!
Do you want an advent calendar with toys that will capture your child's interest all year long? Purchase the Playmobil Advent Calendar Fire Rescue Operation with Card Game on sale from $29.95 down to $23.96. Each day your child gets to open a new window with a new toy. There is also a card game included that you can give your child once they have opened every door.
The Christmas Mangerby Playmobil is a great Christmas gift. Your child can stage their own manger scene and display it in the window for all to see. Originally $27.95, this Christmas manger play set is now on sale for $22.36. This undercuts Amazon Canada's price of $25.16 by a few dollars.
I also found this cool My Secret Play Box "police station" from Playmobil. From the outside, you cannot tell what it is but open the box up and it transforms into a police station. This is a fantastic surprise gift. Originally $29.95, pay just $23.96.
There are plenty more toys on sale. I recommend not using the 'Shop All Playmobil' tab as it does not show all of them - it only shows 16! Browse through each Playmobil theme to find all the toys. There are dragon, ferries, NHL, pirates, 123, and more themes that your child can collect. Playmobil characters are all the same size so a new set will play splendidly well with an older set your child may already have.
Receive free shipping on $25 or more.
(Expiry: 23rd November 2015)