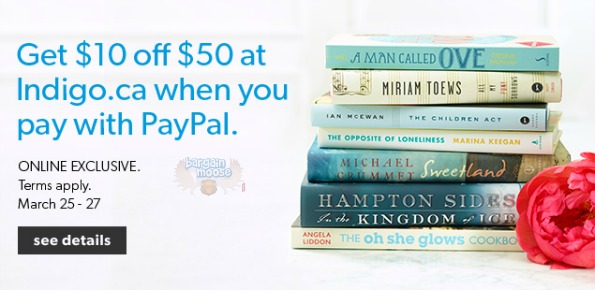 For three days only, use Paypal to pay for your $50 or more purchase at Chapters Indigo to receive $10 off. Usually, Chapters Indigo only has $5 off $50 deals, so a $10 off $50 offer is a pretty big deal! You also want to combine this deal with the $5 off $50 coupon codeNEWINMARCH I already blogged about for a total of $15 off $50!
Now - you need to do this in the RIGHT way (or it won't work and you will be short $10). Follow these instructions:
Log into your PayPal account and click to save the offer.
Shop
Pay with Paypal and the offer is automatically applied
The savings will show on your Paypal email receipt and account details
It is imperative you remember to do step number one - do not just jump straight to shopping! I just clicked through and redeemed the offer on my Paypal account. Now, I can go shopping!
The beauty of this offer is that it combines with the above coupon code, sale items, books, and everything but gift cards. I just blogged about some great Le Creuset accessories on sale including a lovely salt crock. Receive an extra $10 off your order when it totals $50 or more.
Personally, that salt crock and a book tempt me! Monstrous by MarcyKate Connolly is on my wish list just because Scottie Young - the artist from Marvel's Wizard of Oz series and the Marvel baby comic covers - illustrates the book. He is truly one of my favourite artists and I am interested in all his work. The book costs $15.16 for Plum members so it pairs perfectly with the salt crock - as together they cost $50.16. After checkout out with Paypal, the book and the salt crock will only cost me $40.16 plus taxes.
I always have to go back to books. The Adventures of Tintin Complete Slipcase set is on sale from $129.95 down to $81.47. When you checkout with Paypal, the set will cost just $71.47. While that may still seem like a lot of money, we are talking the complete TinTin collection - it is massive. I used to watch TinTin on TV when I was a kid. If it was not on in English, then I would watch it on the French channel.
The sale section is always a good place to shop as well. This Wecker Sweet Diamond clock (in black)was $55 and is now $22.
I also highly recommend shopping the Select Robert Munsch collections for only $15 (originally $25). These books are awesome for kids and there are four to choose. If you bought all four (4 x $15 = $60) then you could get the $10 off deal with Paypal. That brings all four books down to $50 when they have an original value of $100.
(Expiry: 27th March 2015)