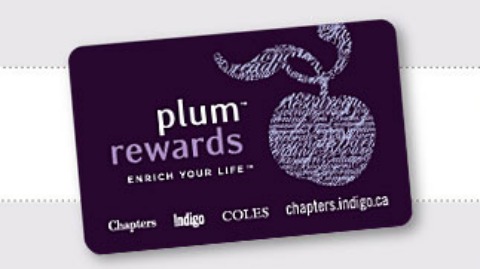 Chapters is offering a new free rewards program called Plum Rewards, as an alternative to irewards. Collect Plum points (10 per dollar spent) with purchases in store and redeem for rewards. Plum points are not rewarded for purchases online, but you will save 5% off books ordered online. As an added bonus, get 100 plum points with your first purchase online or in store and get 400 bonus plum points when you complete your online profile.
Your plum rewards points can be redeemed in store. 2,500 points will get you a $5 reward and if you collect up to 35,000 points, you'll get a $100 reward!
You can't be a member of irewards and plum rewards. Choose the program that works best for you. An irewards card will give you 10% off book purchases in store, 5% off almost everything else in store, 50% off Globe and Mail Bestsellers online and up to 5% off book purchases online. Compare that to the new plum rewards which is free to join, saves you 5% on books online, and rewards you will points for dollars spent in store.
If you need help deciding whether irewards or plum rewards is best for you, speak to someone in store. I'm not a member of irewards because I don't like to pay ($35) for a discount program. I did sign up for the Plum Rewards though since it's free!
(Unknown Expiry)