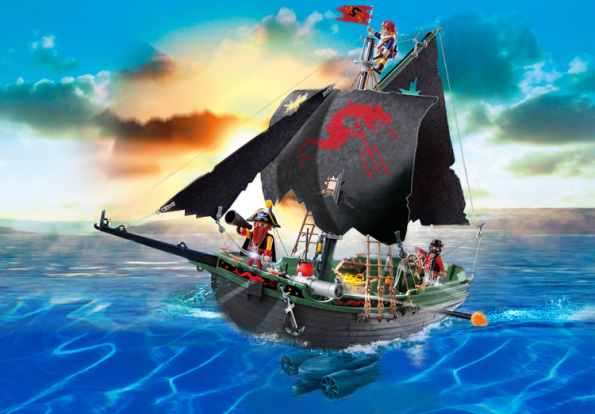 If your little one loves Playmobil, then I suggest you check out this hot offer from Mastermind Toys Canada. For a limited time during the Boxing Day sale, or while quantities remain available, you can get the Playmobil Pirates Ship With RC Underwater Motor for 50% off the original price. Just $50 for this popular play set is a steal - especially considering Playmobil.ca sells the motor alone for $55. Plus you can get free shipping on orders over $50 at the check out process.
Wow. I love finding fabulous deals on Playmobil items. My son is obsessed with this brand of toy and they are usually very pricey. I am always happy to snag quality items like this for half price. Aren't you? So quick, add this Playmobil Pirates Ship to your MastermindToys.com shopping cart because who knows how long this deal will last. You also don't know when you will see this item priced this low again either. I mean, just take a look at what other Canadian retailers are selling the very same item for:
$76 @ Toys R Us Canada
$100 @ Shop.ca
This is your child's chance to command the high seas. Join them on a quest for a hidden treasure chest in the Pirates Ship with RC Underwater Motor. It is fully equipped with a remote-controlled underwater motor so that your kiddo can not only propel the ship through the water but also decide which direction it will go. There are even functioning cannons and storage compartments to store all the hidden treasure.
This set also includes:
three pirate figures
treasure with chest
black sails
swords
barrel
shovel
anchor
and lots more
This Playmobil Pirates Underwater Motor is compatible with most Playmobil boats actually, so you can even take it off and attach it to other boats you have from other sets. It does require one 9V battery and 6 AA batteries to work properly, and unfortunately the batteries are not included with this item.
MastermindToys.com offers a $15 shipping discount on all orders over $60. So you may be able to get free shipping on your order if you find something at $10 or more to get you up to that minimum spend threshold. Otherwise your shipping will vary depending on your address, and my shipping estimate was $7.21.
Moosers, is Playmobil popular in your household?
(Expiry: Unknown)