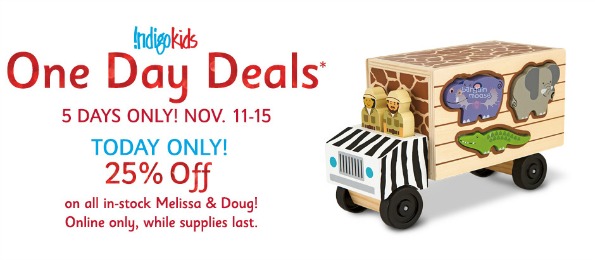 Get 25% off Melissa and Doug toys today only. Also, when you order items from Chapters online, you'll get a coupon for a buy one, get one drink at Starbucks as a little bonus.
You have until December 20th to get the Starbucks coupon in every order you place online at Chapters. I am definitely going to be placing a few orders over the next month, so I'm sure I'll score a couple of these coupons.
Today's deal at Chapters is 25% off Melissa and Doug toys. As I've blogged a number of times before, my younger kids love Melissa and Doug. I love that the toys are made from wood and are made for creative and learning play. Some of our favourites include:
Wooden sushi slicing playset - any of the food ones go over extremely well in my home and my youngest loves sushi - was $25.95, now $19.46
Shapes chunky puzzle - we have about a million M&D puzzles, but this one is my youngest's favourite. I love that it teaches him shapes too - was $12.95, now $9.71
Make a Face crazy characters sticker pad - we have a lot of their art stuff too and this face sticker pad is really fun - was $5.95, now $4.46
Trunki Terrance - perfect for sleepoevers - was $44.95, now $33.71
Shipping is free when you spend over $25.
(Expiry: 12th November 2013)