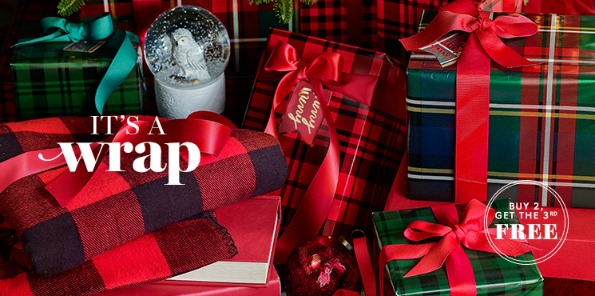 Chapters Indigo has a lovely little buy two get your third free deal on their brand new collection of Holiday Gift Wrappings. Instead of just making the cheapest bag free, Chapters Indigo will give you 33.3% off each bag in your cart. The Christmas collection includes bottle bags, gift bags, ribbons, labels, tissues, and more.
I was instantly struck by the gorgeous felt bags you can buy. Felt is a wonderful material that makes sturdy bags. These bags are reusable in that you can re-gift again and again using the bags. If giving out of the family, your recipient will want to keep their bag or use it to gift items too. This bag is made to last. I adore the Moose Felt Bag for $7.99 and the Reindeer Felt Bottle Bag for $5.99.
Some gifts are odd shaped so using wrapping paper requires skill I just do not have. This Jumbo No Peeking Bag handles large, awkward gifts with no problems. The Moose on the front is just appropriate. This bag costs $7.50.
I added all three of the above bags to my cart, and my total came down to $15.49 for all three bags. There is additional good news, this promotion works for all combinations of three so
Buy 2 Get 1 Free
Buy 4 get 2 Free
Buy 6 Get 3 Free
… and so on. Load up your cart with beautiful wrapping tissue, ribbons for decorating, and gift bags for giving. Chapters Indigo offers free shipping on orders of $25, so the buy six get two free (or 33.3% off six items) is probably your best bet when combining the discount and free shipping.
Looking for holiday labels? They are quite affordable at Chapters Indigo. This pack of Holiday Gift Labels is just $3.95 and you can get different styles too, like the Holiday Cabin Gift Labels.
Tissue paper is about the same price. I find that tissue paper really makes a gift pop so I use it for special gifts. This Plaid Tissue would be a personal favourite of mine for $3.95. Just think, you can get both the packs of labels and a pack of tissue for just $7.90.
(Expiry: 8th November 2015)