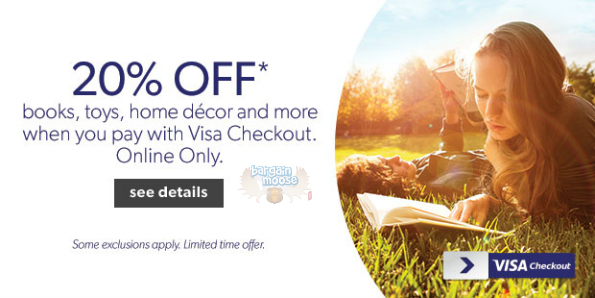 Chapters Canada has also teamed up with Visa Checkout to offer you a 20% discount on select items. Checkout with Visa Checkout and use your Visa credit card to pay in order to receive 20% off books, toys, home decor, and more.
This is the first deal with Visa Checkout that I am actually going to take advantage of right after I write about it. I love Chapters Indigo and use them instead of Amazon for book purchases. I try to encourage shopping at Chapters Indigo to keep Amazon from having a monopoly on online books sales. They generally have the same prices anyway. With this discount, you are most certainly getting a far better deal than at Amazon.
Visa Checkout is simple:
Choose Visa Checkout as your checkout option
Sign up via the 'create account' button if you have not already
Complete your purchase
If you have taken advantage of any of the previous Visa Checkout deals at other websites, then you already have an account.
There are a few exclusions that you need to know about:
Offer excludes Apple products and accessories; gift cards; Kate Spade, LEGO and Rosetta Stone products; used books/music/DVDs; and loyalty memberships or Love of Reading products or donations.

This discount is available up to a maximum purchase of $1,000.
I am going to purchase three 'books' with this offer: actually, they are all graphic novels that I am collection. First, I will purchase Saga Volume 3 and Saga Volume 4. I own one and two already. This comic is phenomenal - no wonder it is so critically acclaimed. Both graphic novels are $13.68 each. The discount should bring each volume down to just $10.94 (with Plum discount as well).
My third choice is Rat Queens Volume 2, which is not actually released yet. This volume will be released on May 19th. I own volume one and think this graphic novel is a solid piece of work. I really like that the 'main gang' is an all-female group with varying personalities (and looks). Each have their own issues and their own skills. I think the character development over the story is awesome. Currently this volume is $13.68 and should come down to $10.94 after both Visa Checkout discount and Plum Rewards discount.
Orders of $25 or more will ship to your home for free.
(Expiry: 31st May 2015)