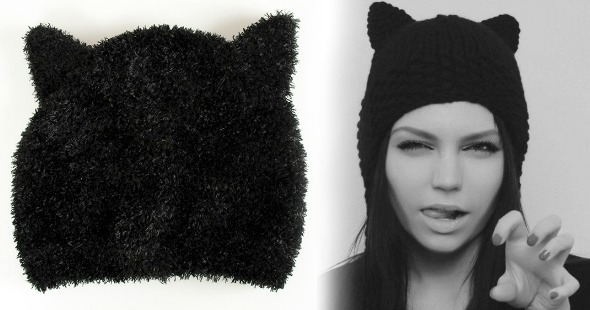 Winter is basically here, although the weather today seems pretty nice. One thing that I do enjoy about winter is cute hats. I just can't get enough cute hats for my kiddo and I. This Cat Ear Beanie from Le Caniche Noir says it all. I didn't even think twice about adding it to my shopping cart. The Cat Ear Beanie was originally a whopping $40, but now you can call it yours for just $14 including shipping form LeCanicheNoir.com.
This hat is one size fits all, so you don't have to worry about your size being in stock. It is a black beanie with cat ears on top, and the price is amazing at just $14. It is made of 90% acrylic wool and 10% polyester wool. I can bet you any money that this hat will be super warm this winter.
Normally when I see beanies for sale they are knitted and look like our typical fall sweaters. This one looks like the material is a little fluffier, and thus warmer. I am also pretty happy that it is black, because then I don't have to worry about which coat and boots I wear. Black matches everything! I also happen to have a black pair of gloves that looks to be the same material, so I will be all matchy-matchy for sure. I just hope where this hat is "one size" that it will cover my ears. There is nothing worse than feeling like your ears are going to freeze right off your head, right?
If you have a friend or relative that would wear something like this, then this Cat Ear Beanie from Le Caniche Noir might even make an excellent Christmas gift or stocking stuffer. Your friend will never know that you paid just $14 either. Le Caniche Noir is pretty good for having high quality items. I have ordered two items from them on separate occasions now and I was pleased both times. Both purchases arrived quickly and exactly as I imagined.
When it comes to shipping, Le Caniche Noir Canada offers totally free shipping with no minimum purchase. That means even if you just purchase this single hat, you won't be smacked with any additional fees to get the item to your door.
(Expiry: Unknown)