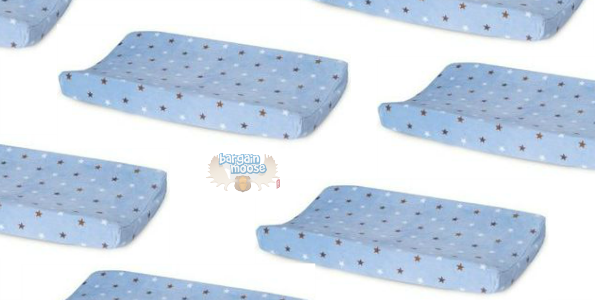 All of the little items can add up when you are planning for a baby. Today I found a sweet little deal on this Carter's Blue Velour Changing Pad Cover. This cover was $18.99 but is on sale now for only $5.97. You will receive completely free shipping with no minimum at Shop.ca.
Babies need lots of snuggly gear to keep them comfortable and happy. One of the many items you may not have already picked up is an extra changing pad cover or three. This is a super-soft changing pad cover in the Monkey Rockstar line. There are no actual monkeys to be found on this velour cover though the design is quite cute. The cover is blue with brown and white stars that could easily mix and match with a variety of nursery styles. Please note that the actual changing pad will need to be purchased separately, but you can find those at most major retailers that sell baby supplies and gear. This cover will fit any standard 16" by 32" changing pad.
Canada's Baby Store has this exact changing pad cover for $5.97 but wants to charge you $12.95 in shipping or insist you spend a minimum of $50 for free shipping. Amazon Canadahas this changing pad cover from an alternative seller for $18.99. Bed Bath and Beyond Canada has a similar Carter's changing pad cover in blue for $23.99. Toys R Us Canada has a similar blue changing pad cover from Nautica Kids for $24.99.
I only saw one review for this particular changing pad cover, and it was over on Amazon Canada. The reviewer thought it was soft and cuddly. They also mentioned that the elastic along the bottom holds the cover securely over the changing pad which is something you may want to consider now before a squirmy baby is laying on it. Carter's is well known for making quality baby products. I would expect that same quality from this changing cover.
Before I had my first kid, I never considered a changing pad cover as a necessary item. The first time you lay that baby down in a bathroom of a public place, you will realize just how much nicer it is to change your baby on their own comfortable changing pad with a soft cover like this one. In fact save yourself the effort and just pick up two or three. That way you have an extra when the baby is sick or has a giant diaper blowout. You will want an extra cover after a big diaper blowout, trust me!
(Expiry: Unknown)