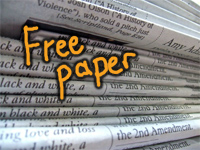 If any of the Bargainmoosers read the National Post, I'm sure you'd like to know how to get it free for 3 months! You just fill in the details online on the confidencebound.ca website, and they will arrange to have the newspaper delivered for free.
Get the inside track on affairs affecting Canadians across the country and around the globe written from a uniquely Canadian point of view. With the most well-respected and in-depth business reporting in the Financial Post, accurate coverage and commentary on current affairs, as well as the latest on the arts, sports and social scenes, The National Post is an absolute must-read.
Thanks for the image DRB62.