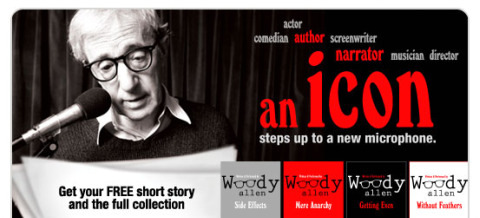 This is a nice downloadable freebie if you like listening to books. Audible.com is offering the short story "My Apology" from the Woody Allen Collection, read by Woody Allen, for free.
It is simple: look for the "Free Short Story" offer and click "Add to Cart". Open an account with Audible.com if you do not already have one and 'checkout', no credit card info required. Usually the file would automatically download to your music player, however due to them upgrading their website I had to go back into audible.com and click 'Library' and then download it from there. So if you get the same message, don't fret. It is only a couple extra steps.
If you use iTunes, it will require you to input your username and password for Audible.com to authenticate, and then it will swiftly download the short story. "My Apology" is about 10 minutes long. I have listened to the first little bit, and Woody Allen has a good voice for audio books, this could be a nice freebie.