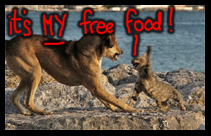 Here we have some printable forms which you can save and print to get you some freebie pet foods! These are mail-in rebate offers, but if you closely follow their terms and conditions, there is no reason you shouldn't get the cashback. Here's what you can get:
All you need to do is buy the pet products at your regular supermarket, then complete the mail in rebates accordingly. If you have dogs or cats, this could save you quite a few bucks on pet supplies!!
The Nutro offers expire on the 14th January 2009 and the ScienceDiet deals expire on the 31st March 2009.
Thanks for the image Sephiroty Fiesta!