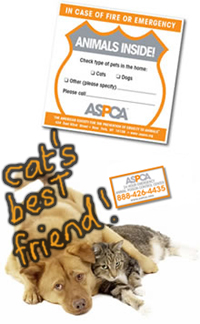 Here's a freebie for those of you with googies and kittehs, as they say in cheezburger land (Translation: dogs and cats!). The ASPCA in Canada are giving away free pet safety packs
The pack even contains a free fridge magnet. I don't know what else is in it though! I think there is a decal sticker for your window, so that if there is an emergency, the firefighters know that they must rescue 14 dogs and 17 cats from your home. I'm sure the rescue services are going to go and look at the sticker on your window to find out how many pets they must rescue… well, you never know!
If you have kids, perhaps you could write how many kids you have instead!!