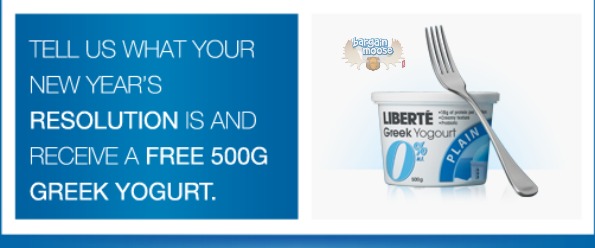 Have you jumped on the Greek Yogurt bandwagon yet this year? I have, and I love it! Get a free 500g Greek Yogurt when you share your New Year's Resolution on Liberte Greek Yogurt's Facebook page.
First, you will have to like Liberte Greek Yogurt on Facebook.
You can enter your own New Year's resolution or choose from some sample resolutions. You can choose to share your resolution or keep it private by clicking the appropriate link.
There is a limit of one coupon per person. Your coupon will arrive in the mail in about 3 weeks.
I've heard that the 0% Honey Greek Yogurt is supposed to be delicious. That will be my pick for my freebie.
There are just under 15,000 freebies left as of late this afternoon. Thanks to Mooser  emmawalpole on Twitter for letting us know about this one!
Expiry: Unknown