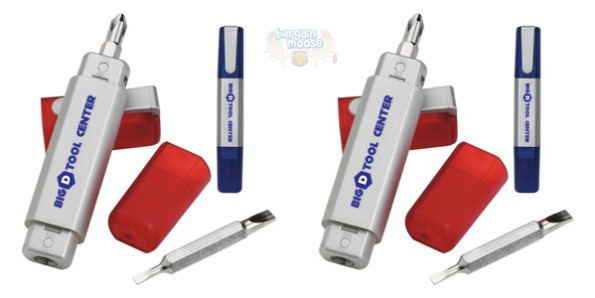 Receive a free pocket screwdriver kit from Big D Tool Center when you click through the below link and fill out the small information form.
You will receive the tool shown in the banner above, which looks to be pretty useful actually. There appear to be two screwdriver bits with one inserting on each side. Each bit has two heads that you can pull out and switch around. One has the classic flat head the other the diamond.
This little pocket screwdriver could probably get you into most things. We have a mini screwdriver set that has maybe one more head then this set and I disassembled and then reassembled my husband's PS3 with it. You heard right, I took apart a PS3. That includes removing the power supply and getting into the disk drive so I could remove a sticky disk that had adhered to the inside of the disk drive. The PS3 has such small screws now that you need mini screwdrivers to do the job.
I just sent one of these to my parents instead of sending it to myself as we already have a set of mini screwdrivers. With your screwdriver kit, you will receive their products brochure.
Big D Tool Center offers you a second promotion if you request information from CDI College - as they are an advertiser and help them pay for the freebies you are receiving. For doing this, you will receive your screwdriver set in less time (one week instead of the usual time for freebies) and you will receive a small surprise gift as well.
I did not sign up for the CDI College information so I do not know what that freebie is going to be. If you sign up for it, drop us a line and let us know what the extra freebie is please!
Quantities are limited as per usual. There is a limit of one free screwdriver per household.
(Expiry: Unknown)