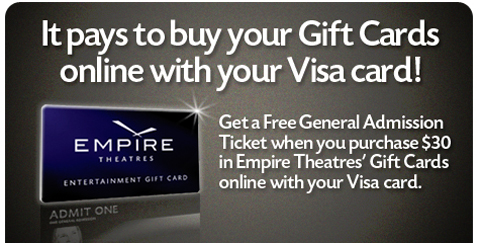 This is definitely a great deal if you are a regular patron of Empire Theatres. If you purchase $30 worth of Empire Theatres gift card, you get a free general admission ticket!
Terms and conditions:
The General Admission Ticket will be sent to your billing address
You will receive a General Admission Ticket with each $30 increments
Promotion runs online from Monday, August 17th to Sunday, October 25th, 2009
This offer is only available when purchasing gift cards online with your Visa card
Offer not available in theatres
It seems that for every $30 you purchase, you get a free Empire Theatres ticket. So for a $60 spend, that's 2 free tickets and for a $90 spend, that would be 3 free tickets.
Promo will end on the 25th October 2009.