I love traveling across Canada by train, sipping chilled wine while watching Canada's gorgeous, ever changing scenery float past!  Snort ... my reality usually involves refereeing kid battles, but a mom can dream!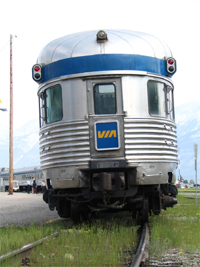 VIA Rail is celebrating Car Free Day on the 22nd of September!
They are offering you an environmentally friendly alternative to traveling by car -  with an e-coupon valid for 40% off on an adult regular fare when you purchase an Economy class ticket for one-way or round trip travel anywhere in the VIA Rail network.
Conditions:
Travel must be completed between 22 September - 7 October, 2009 inclusive, and between 14 October - 14 December, 2009.
Offer ends 28 September 2009.
40% offer only available to those travelers that subscribe to the VIA e-letter. Once you've subscribed, the 40% off e-discount coupon will be sent to your mailbox
Thanks to Joanne Probyn!