Canada Post Coupon Code: 15% Off RMS Empress of Ireland 100th Anniversary Collector Set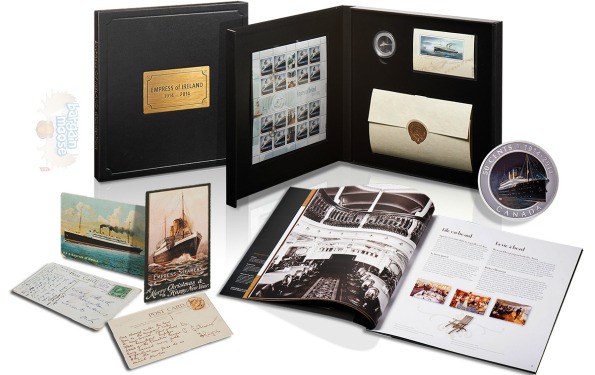 Canada Post has released a coupon code for 15% off the Empress of Ireland 100th Anniversary Collector Set. The set retails for $99.95, but you can purchase it for $84.96 at Canada Post. You will also receive free shipping as the set retails for over $25 (which is Canada Post's minimum for free shipping).
Click here to view the Empress of Ireland set @ Canada Post now
Coupon Code: EMPRESS2014
Discount: 15% off Empress of Ireland Set
Expiry: 31st December 2014
This coupon is good all the way until the end of the year dear Moosers. If you have any coin collectors in the family, then consider giving them this beautiful coin, stamp, and book collection as a gift. This collection makes a good gift for stamp collectors and history buffs as well. Personally, I just like big ships and this boy is a tragic beauty.
This collector's edition is loaded full of marvelous stuff:
A book telling the story of the Empress including her role in furthering immigration to Canada and the events of the early morning hours of May 29, 1914.
A limited-edition Royal Canadian Mint commemorative coin (only 15,000 pieces made).
Two reproduction Empress postcards
Stamp collectibles with unique metallic ink cancels
A full pane of 16 domestic-rate stamps
A souvenir sheet of the international-rate stamp
Both Official First Day Covers
The coin is the centerpiece of this entire collection. It alone costs $34.95 at Canada Post and at the Mint.ca. It is hard to price compare the entire set because it appears to only be sold at Canada Post.
This set tells a story. For anyone whose families were influenced by the events of the Empress of Ireland, or anyone who cares about Canadian history, this set commemorates an important event in our history as a nation and in Canada's naval and immigration past. For those of you not familiar with the Empress of Ireland, she is considered the "Canadian Titanic," which should give you enough context to figure out what happens to this ship full of people traveling to Canada.
Canada Post also has a new "Sold Out at the Mint" Collection where you can shop for coins no longer available at the Royal Canadian Mint. As Canada Post offers free shipping on orders of $25 or more, you can often get a better deal when you buy your coins through Canada Post rather than pay shipping costs on top of the coin costs at the Mint.
For this and any future Canada Post coupon codes, visit our forum.