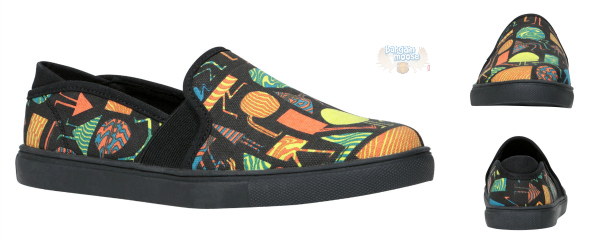 Call It Spring teamed up with Mike Perry to create these little graphic Fradella loafers for women. Originally $39.99 per pair, they are now on sale for $5.99! Shipping is only $5 or you can get free shipping on orders of $50 or more.
Sometimes, you just need a pair of cheap shoes that you don't care about being destroyed with mud, paint, sand, food, and more. I think these Fradella loafers fit the bill. At just $6, they will not break the piggy bank by any means.
This loafer has a rounded toe and twin gores. The inside features a textile lining. The black loafer with colourful graphics is a great little slip on for running errands or chasing after kids. If you look close, you will notice that those multi-colour shapes on the shoes have legs! This is a fun print by artist Mike Perry that you just need to slip on your feet.
I really like this deal because 1) the discount is so high and 2) the size range is fantastic! Seriously, you can buy these choose anywhere between size 8 to size 10, with half sizes available as well (except for 9.5). You get to choose from eight sizes in this fun printed shoe. That should cover most women's feet.
If you do not want to pay for shipping, then you will want to explore other deals in the sale section. With such steep deals as the Fredella and the shoes below, you can pick up four or five pairs of shoes for around $50.
The Corinaldi shoe was $59.99 and is now on sale for $11.99. This shoe looks like a strange cross-bread between straw thatching and a platform shoe.
I much prefer the Busiago, which is a high-top sneaker in bone or black. This is a shoe I could see wearing almost every day. Originally $59.99, they are now on sale for $11.99.
Lastly, the Fiagotakes the shape of a desert boot with its clean profile, narrow toe, and simple lace. Originally $59.99, these booties are on sale for $11.99 as well.
These three shoes I just mentioned are all excellent deals as well at 80% off their retail price. However, the feature Fradella shoe is just a bit better at 85% off the original price. Also, I could not resist a pair of funky shoes like that for under $10.
Sign up for the Call It Spring newsletter to save another 15% on your order.
(Expiry: Unknown)