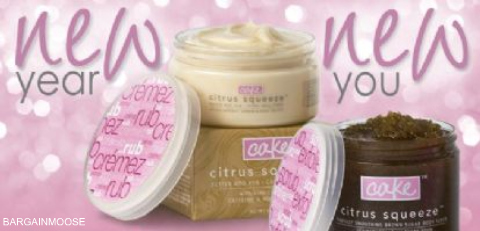 This is a cool offer from Cake Beauty to bring in the New Year. It is basicly a two for 1 offer, you get both the sinfully smoothing citrus squeeze brown sugar scrub and the better bod rub in citrus squeeze for the price of the scrub ($32). On their own the scrub costs $32 and the rub costs $34 so you are saving yourself $34!
Here are some product descriptions to feast your eyes upon:
Sweet cheeks sinfully smoothing brown sugar scrub:
A turbinado brown sugar scrub richly infused with three nourishing natural oils and a decadent moisturizing butter that keeps skin smooth, supple and irresistibly buffed.
Citrus squeeze better bod rub (your free item):
A skilfully blended moisturizer that does so much more! infused with active ingredients that help tone, firm, reduce the appearance of dreadful dimply bits and 'not so' fine lines.