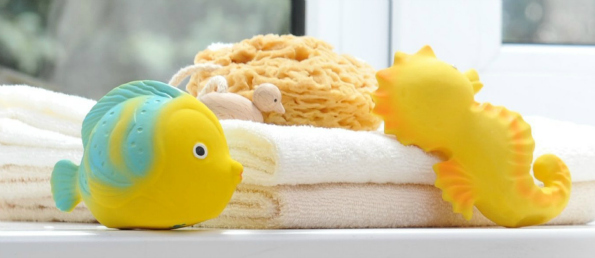 **Bump: with free shipping until the end of today, these little bath toys are a great deal. Butterfly fish & turtle still in stock**
The most darling little bath toys are on sale at Chapters Indigo! The CaaOcho Ocean bath toys are made from 100% natural rubber so they are safe for baby's hands and baby's mouth. Originally $15.50 each, they are now on sale for just $8 per bath toy.
These rubber toys are very special as they are completely safe for baby. All CaaOcho bath toys are completely non-toxic, and it is certified BPA, PVC, Phthalate and Nitrosamine free. The company uses food grade paints that are hermetically sealed. There is absolutely no chance for bacteria or mould to grow in or on this toy. Give your baby the best with these natural rubber CaaOcho bath toys.
There are four adorable sea characters to buy.
Every ocean needs some fish, and this La the Butterfly Fish will be right at home in your baby's water. The yellow body with blue accents will be a fun companion to Nalu the Seahorse and Kala the Whale.
Lastly, Mele the Sea Turtle is bound to be a fun addition to the entire crew. These are actually sizable bath toys with each toy between 5.5" and 6.25" high/long. The shapes are all great for baby's hands too as there are plenty of ridges, limbs, and smaller parts on each rubber bath toy for baby to hold on to. As they are 100% rubber and coloured with food-grade dyes, it doesn't matter if these go straight from bath water to mouth.
Kala the Whale is bound to be popular with little ones. The bright blue what has a great shape for gnawing on and can be easily found among the bubble in their bath.
Nalu the Seahorse would be my personal favourite. I have always liked horses and in my mind - when I was a kid - a seahorse was just a horse that liked water. This cute little toy fits well with the ocean theme.
One reviewer at BabyJoy Canada (where they cost $15.49) said:
I highly recommend this bath toy - I love that it is made of natural rubber , and Therefore  doesn't give off any strange smells after taking it out of the package - it is easy for my 6 month old to grip and the design of the whale is beautiful - I feel comfortable knowing that this is a safe toy for my daughter to play with
I adore these little toys and love how eco-friendly they really are. These would make great stocking stuffers for baby's first Christmas. Receive free shipping on orders of $25, so pick up all four toys for only $32!
(Expiry: Unknown)