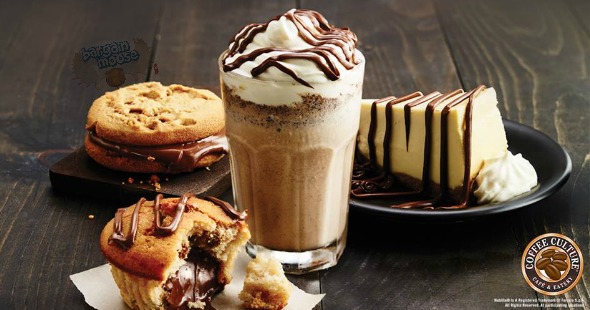 Restaurants and cafes across Canada are releasing a series of delicious Nutella products. It seems to have started at Tim Hortons, but now Coffee Culture and even Harvey's have jumped on the bandwagon. If you are looking to satisfy your Nutella craving, keep your eyes peeled for coupons and discounts on these products because Coffee Culture has started the trend with their new coupon. This coupon is to buy one get one free on Nutella products at Coffee Culture until the 3rd of May. Sign up and print the coupon or show it on your mobile device to redeem the offer.
Honestly, this variety of Nutella items at Coffee Culture has me drooling. While I probably shouldn't intake these extra calories, how could you resist? I think I could eat one of each item in one sitting. These Nutella treats are a variety of blended, drizzled and layered in Nutella perfection. You can only use this coupon today and tomorrow, so if you were looking for a place to get together with your girlfriends this weekend then take advantage of this offer. There are Coffee Culture locations in Ontario and Manitoba only.
The Freddoccino is a delicious way to start your day, especially now that the weather is warmer. This delicious cool beverage is made with Nutella and topped with whipped cream. On top of that, they have drizzled the top with more Nutella. This is gonna be bad guys! I might over-indulge over the next couple days. You could combine this beverage with the Banana Nut Muffin that is stuffed with Nutella. Mmmm, I bet this muffin would be to-die-for if you got it warmed for a few seconds. It even has a Nutella topping.
Now if you really want to murder your New Years Resolution to eat healthier, then keep reading. The Peanut Butter Sandwich Cookie sounds delicious already, but then add the fact that it is filled with Nutella. Om nom nom, get in my belly! I might try making these at home once the coupon expires. The hard part will be pacing myself and not eating them all at once.
Last but not least, let's talk about cake. The Cheesecake at Coffee Culture is pretty good actually, but a little pricey. You won't mind the price when you combine the fact that it is topped with Nutella and available with this BOGO offer. So, purchase your cold Nutella drink and treat and you will get the one of lesser value for free. Are you drooling yet, Moosers?
(Expiry: 3rd May 2015)