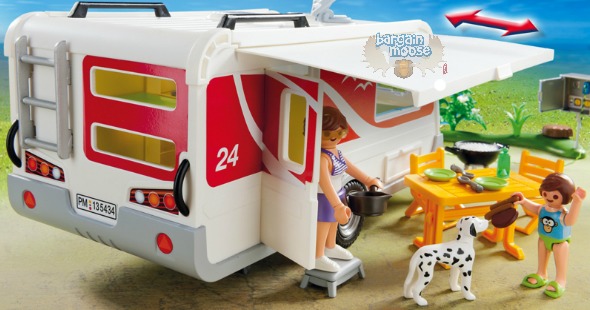 Toys, toys, toys. Children can never have enough toys. If you have a little birthday coming up, or just want to grab a toy at a great discount for your little one, then shop at Toys R Us Canada. For a limited time, you can buy one get one 50% off select popular toys like Teenage Mutant Ninja Turtles, Playmobil, Frozen and more. This is a great way to get a nice discount on many toys that rarely go on sale. You will get free shipping if you spend over $25 too.
Does your child love Frozen, Teenage Mutant Ninja Turtles or Playmobil toys? Great! Right now Toys R Us Canada has a Mix & Match sale that will allow you to take 50% off the regular price of one select toy when you buy two. This Buy One Get One 50% off promotion can be applied towards the purchase of select toys like Paw Patrol characters, Teenage Mutant Ninja Turtles, Playmobil,
Personally, my two year old little boy cannot get enough of the Playmobil sets. He has a few of them and they have been helping him use his imagination to play and create scenarios. He has the Playmobil School Bus which seems to be among the most popular of these adorable play sets. This toy would normally cost $29.99 but if you buy two then you will only pay $15 for the second one. Playmobil has many sets available like the Playmobil Stegosaurus for $34.99, or the Playmobil Children's Pony Farm for $79.99. 
There are also many Teenage Mutant Ninja Turtles action figures for $11. Your child can play with their favourite character whether it may be Leo, Raph, Mike or anyone else. Maybe they can even catch a ride in the school bus mentioned above. If you have both a boy and a girl, then perhaps you can pick up the Frozen Petite Anna and Elsa with Trolls for just $29.99. That would knock down the Ninja Turtle toy to just $6.50! The great part about this Toys R Us promotion is that you can mix and match to keep all the kiddos happy.
There are two different shipping options from ToysRUs.ca, so choose wisely. First, you can choose 'ship to store', which is absolutely free. Just be sure to check that your local store has inventory first. Otherwise, spend $25 or more to get free shipping on your order. Some areas may not qualify, depending on where in Canada you live.
(Expiry: Unknown)*9