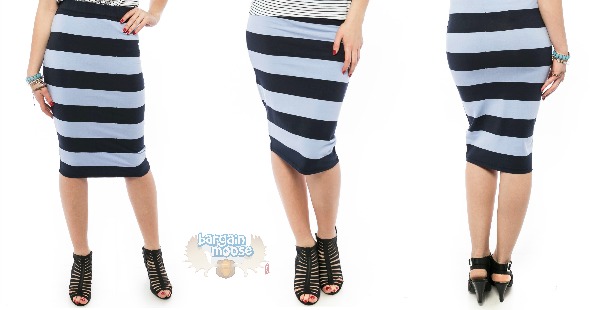 Still looking for a few more items to add to your Summer wardrobe? Suzy Shier Canada has a fantastic promotion on right now. This weekend you can shop the sale section at Suzy Shier Canada and buy one, get the second item for 50% off. Sale prices start as low as $9.95, so you can really get some good deals in here.
To make your shopping easier you can filter by price, size and even colour on SuzyShier.com. This is a great tool, especially during promotions like this. Often sizes sell out so quickly and its a scavenger hunt to find your perfect fit. Now you can sort by the size you need and only items available in your size will come up.
Thinking frugal, I sorted items so that I would only see apparel and accessories under $10. This Striped Midi Skirt came up for just $9.95. This skirt would look fabulous with some wedges and a white blouse. I need this item in my closet. If you add another item to your shopping cart, this item will be discounted to just $4.98 for a trendy and comfortable skirt.
There is also quite a variety of scarves available for just $5.95 each. A printed scarf can really tie off a great outfit (no pun intended). If you were looking to add two scarves to your cart, the second one would be discounted to just $2.98 which is quite a discount off the regular price of $9. There are a few different scarves to choose from. Choose between Leopard Print, Moroccan Mosaic Print, Bicycle Print Eternity Scarf, and more.
Plus sizes are included in this BOGO offer as well. Just remember that the item of lesser value is going to be the item that is discounted. You can add as many items as you desire to your shopping cart. every 2nd item of lesser value will be discounted by 50% off the lowest listed price.
If you happen to spend $100 or more, you will also get free shipping. This is definitely something you will want to aim for considering the Suzy Shier Canada shipping costs. If you spend less than $25, you will spend $8 in shipping fees. If you spend $25-$50 you will spend $9 in shipping fees and so on. The most you could actually pay for standard shipping would be $12 which is pretty hefty, considering you could pay less than that for the skirt I mentioned above.
(Expiry: 7th June 2015)