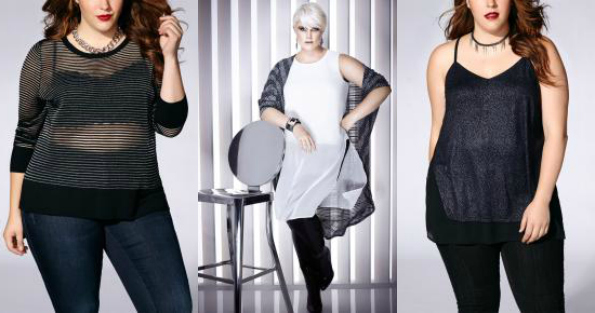 Everything in the Penningtons sale section is now buy one get two free! The sale includes plus-size skirts, tops, underwear, pants, and accessories.
This sale is so sweet that it is hard to find anything in stock in more than a few sizes at a time. It is best to shop by your own size (see left column) to see what is left in stock. I found this adorable mblm Midi Skirt with Mesh Insert on sale from $50 down to $44.99. Not a huge discount, but then I can pick up the JUNAROSE Long Sleeve Sheer Open Cardigan for free and the Long Sleeve Printed Split Neck Blousefor free. Together, all three items have a retail value of $147 - you get that all for just $44.99.
This is a make your own combo deal so shop your size and get plenty of sweet clothing free. For a $20 combo, try the Shaped Fit Lace Sleeve T-Shirtpaired with the A-Line Shimmer Skirtand theInfinity Fringe Scarf . All three pieces will cost you just $19.99, yet they have a combined retail value of $108.
Shipping is a flat rate of $7.95.
(Expiry: 23rd January 2016)