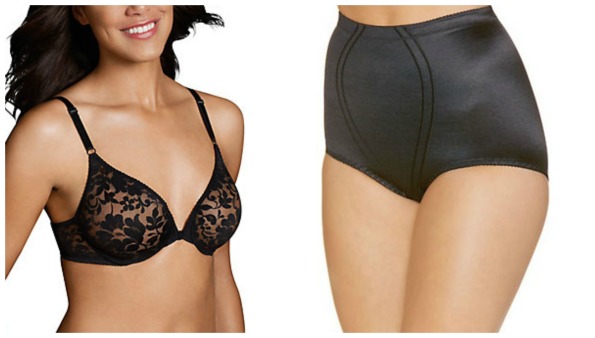 Missing some of the essentials? The Bay Canada has a pretty great deal on undergarments going on at the moment. They are offering Buy 1 Get 1 free on boxed bras and panties by Wonderbra and Warner's. They are both trusted brands that offer different fits for whatever your undergarments needs may be! Shipping is also free on orders over $99.
If you're like me, you spend all your money on clothing and not so much on bras and panties. That's why when a good sale like this comes up, I like to re-stock on the essentials such as black, beige and white t-shirt bras. I would also consider grabbing a couple of shape wear panties, they are the best. Until last summer I had never tried them but now I couldn't go without them, they simply make your clothes fit better while hiding unflattering lines and bulges.
This deal doesn't only include bras and underwear, it also includes nursing bras! I always thought nursing bras were super expensive, especially for the short time some women could be using them for. That being said, they are very useful for breastfeeding moms and can save a little bit of their precious time. The Baby and Me Comfort Nursing Bra is $36 but when you buy two, you pay only $18 each. That price seems very reasonable compared to what I payed for mine back when I was breastfeeding.
Sometimes I just want to be comfortable, and some bras make that next to impossible. That is why I always keep a stash of wire-free bras for occasions that require comfort. This Wonderbra Absolute Comfort Wire Free Full Support Bra may have seemed expensive before with the $43 price tag, but now you can buy one, get one free which makes them just $21.50 each! There are two colours available too, so you can snag one of each if you desire.
For those of you uncomfortable shopping for underwear online, I'd recommend having a friend measure you to determine your bra size. Since your bra size can change often, it's always best to get measured instead of always getting the same bra size and hoping it fits. The correct bra can completely change your look. It's worth taking five minutes to take your measurements, especially when you are purchasing online without trying. The Bay doesn't offer free returns so it is even more important to get your sizing right.
While the free shipping with a $99 purchase is the most appealing, The Bay also offers other shipping options. Standard shipping on orders are priced according to how much you spend: $5.95 for orders under $50, $7.95 for orders under $75 and $9.95 on orders under $99.
Check out our coupon pagefor more deals @ TheBay.com.
(Expiry : Unknown)