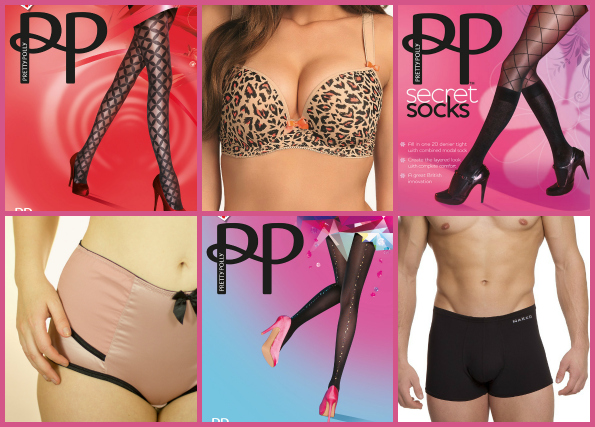 Butterfly Collection is offering up to 80% off select lingerie such as leggings, bras, and underwear in their year-end clearance sale.
One of my resolutions this year is to buy closer to home. Butterfly Collection is a Canadian lingerie boutique - virtually based in British Columbia - that specializes in DD to K size bras and matching underwear. They also carry swimwear, leggings, and more. During this sale, all Pretty Polly tights are 50% off. That includes these gorgeous Pretty Polly Pretty Precious Jewel Backseam Tights. Originally $25, they are now $12.50. I think I like these Pretty Polly Retro Diamond Tights even more. Originally $25, they are now $12.50.
In the sale bras, I spotted some enchanting finds. This Floris Ivory Floral Bra by Panache is on sale from $69 down to $41.40. It is a gorgeous full-coverage bra with a lovely floral print. For that basic every-day bra goes well with anything, this Lucy Bra White 5851 by Cleo might just be the thing. Originally $57, it is now $39.90. Alternatively, this Tess Ivory by Parfait 5022 is a beautiful option and I think it looks nicer than the Cleo. Originally $62., it is now $31.
Personally, I am going slightly nuts over the Freya Deco bras in the sale. I have heard so many good things about the Freya Deco: it gives good lift, a great shape, and nice cleavage. This Deco Rebel Plunge by Freya has one size left in my own size and is a great price. Originally $83, it is now $49.80.
The underwear is probably discounted the highest. I ran across the Dessous Chinchilla Bikini by Claudette on sale from $20 down to $8. I own the matching bra so this sale is quite lucrative. For a simple black brief, try the Elila Jacquered Brief Black on sale from $30.50 down to $7. There are also a couple briefs on sale for $5 each. The Serenade Brief Black and the Serenade Brief Honey were $30 each and are now $5 each.
Butterfly collection even sells men's briefs and they are on sale as well. My favourite has to be the Naked Microfiber Trunk in Black which was $32 and is now $19.20. You can get this brief in a couple other colours. There is also a selection of different styles.
The Free Shipping option applies to all purchases that include a bra over $39.
(Expiry: unknown)