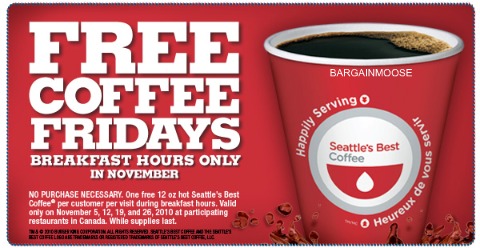 During the month of November you can get a free 12 oz. cup of Seattle's Best Coffee on every Friday in November (sorry we missed yesterday!) This is only valid during breakfast hours at Burger King.
The great news is you have November 12, 19 and 26, 2010 still to get your free coffee.
Thank you so much to Mooser AF who sent us a message on Twitter about this promotion!
I have friends who drink coffee, and they say Seattle's Best is really good, better than Starbucks. In your books, how does Seattle's Best coffee compare?