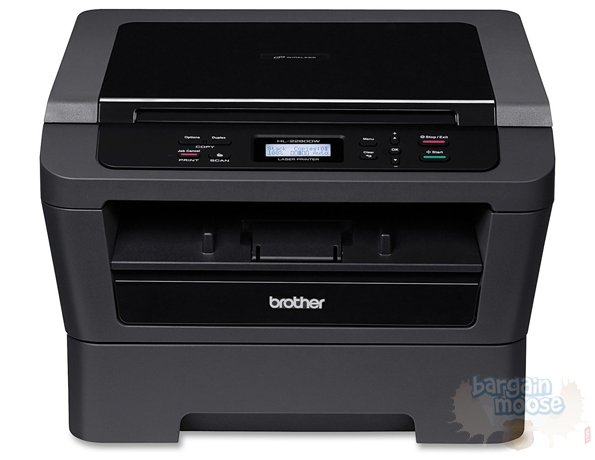 Here's a little dealio on the Brother HL2280DW Multi-Function Mono Laser Wireless Ethernet Printer from NCIX Canada. This laser printer was originally priced at $203.98, but you can pick it up for only $99.99 with free shipping, right now! That's a great price for a handy laser printer.
The Brother HL2280DW printer is a mono coloured printer, meaning it will only give you black ink. Colour lasers are notoriously a LOT more expensive than this. If you're needing a basic mono printer for your home office perhaps, then this is definitely a deal to consider. I've got a mono multi-function laser printer sitting right at my feet at this moment. I don't use it an awful lot, but it is handy to have here when we need to print off boarding passes, the latest Groupon deal, or something like that. I've had my printer for a number of years and I've only ever had to replace the toner cartridge once.
As for a price comparison on this Brother HL2280DW multi-function printer, I've looked around the online competition in Canada and found it for sale at quite a number of other outlets. The next best price I can see that this printer is available is $146.66 @ Costco.ca, that's with free shipping too. So you can see that the NCIX price is beating that by quite a bit, hence I am writing this post about it. :)
It's great to see free ground shipping on items like this from NCIX. At some other sites, you can sometimes pay $20 to $40 just on shipping fees for a bulky item such as this. The free shipping from NCIX is what really makes this deal super-sweet, in my humble opinion.
I googled for HL2280DW reviews to see how this Brother printer performed for users. Of the 33 customer reviews on Amazon, 20 of those are rated with the full 5 stars, and the final score averages out at 4.3/5. That's a very healthy review score. One positive example:
If you want a printer that just prints black and white and has a scanner this is a very good printer, I have had this for almost a month now and works very well!
Apparently, the wireless functionality of the printer is extremely useful too. That's one thing I am missing on mine – I bought my printer before wireless functionality was commonplace. I really wish I had it! I'll definitely be looking for the wireless features when I next upgrade my home office printer.
(Expiry: 22nd October 2014)