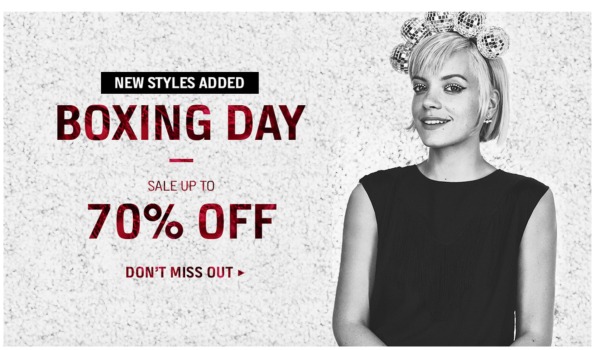 It's New Years Eve but we haven't gone through all of the Boxing Week deals just yet! Like this Vero Moda Boxing Day sale, which is still going on at the moment. Vero Moda online is offering discounts of up to 70% off and they have recently added some new items to the sale. Free shipping is also available on all orders over $50. I'm so happy that I caught this sale just in time for some extended Boxing Day shopping!
Vero Moda is one of those brands that I'm only starting to really appreciate. Their stores haven't been around in Canada for too long. Instead, the brand was carried by department stores or other boutiques. I always thought some shops overpriced the Vero Moda products and I think I was right, since the Vero Moda website has much better deals.
My favorite article of clothing from Vero Moda? Easy, their blazers and jackets. That's why when browsing the sale, the Jackets and Blazers section was my first stop, followed by the Coats section.  I found some amazing deals:
Those are only some of my favorites but there is many more options in the sale section which is still pretty packed. I imagine this won't last for long! The sale section also contains lots of long sleeve dresses, a trend that is everywhere this year. I wear dresses all year long and in the winter I pair them with thick tights and some boots. This Vero Moda Lucy Laced Dress is on trend, with lacy off-white fabric, flared sleeves and a mock-neck turtleneck for a 70's feel. It would look great year round. Originally priced at $79, it is now $59.
Vero Moda describes itself as being trendy yet high-quality and I can definitely see that. Their clothing is still relatively inexpensive, considering the quality of their products, I'm a fan. It's a brand I'm just discovering since I've never been to one of their stores.
As previously said, shipping is free on orders over $50. For orders that don't fulfill the $50 minimum, a $4.95 flat rate is applied for shipping.
Happy shopping!