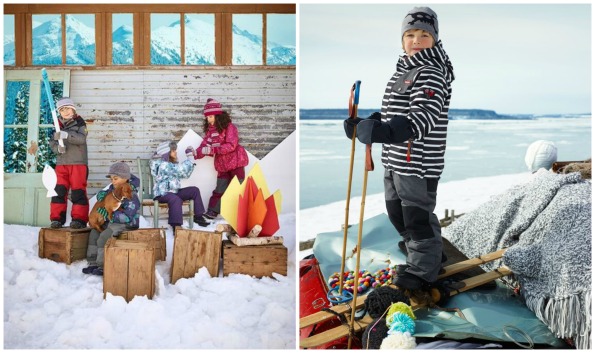 Have you ever heard of Souris Mini? They are a high-quality children's clothing line from Québec that moms just love. For Boxing Day, they are offering 50% off all regular priced items with free shipping on orders over $75. You can also receive a free $10 gift card for every $70 purchase. These gift cards are redeemable from February 1st through February 29th. A sale like this does not come around often at SourisMini.com, enjoy it while you can!
The one product I cannot stop raving about, from Souris Mini, is their snowsuits. They are heavy duty and so well made, down to every little detail. My mom used to buy them for us as children and now I buy them for my son. They are costly but that's why I always buy them on sale. They have what they call a "Fibrosec outer shell fabric" and nothing goes through it, you can feel how water resistant the material is when you touch it. I mean, these snowsuits even have a guaranteeagainst material and manufacture defects. The company stands behind their product and I sure know why. Not only are they practical, they are also quite fashionable with different styles to suit your child's personality.
Here are my favorites :
I don't know about you, but I always shop for seasonal clothing for my child way before time so that I don't have to pay the full-price come summer or winter. This is the time to do that with the great selection of winter accessories that are now 50% off at SourisMini.com. It saves me quite a bit of money when we are scrambling for mittens and I have some stashed away. What is great about the Mini Souris accessories is that they go well with almost all snowsuits in their collection since they are made to with the snowsuit collections. Here are my top four:
Most of Souris Mini's clothing is so fashion forward. The colors are unlike anything you'll see in other stores, fun and bright just like your kid's personality. Mini Souris has different collections, each one has items you can mix and match which makes it that much more fun for us parents. Here are some pieces that are Christmas picture worthy:
Shipping is free on orders over $75 before taxes and for orders under that amount there is a fixed fee of $9 for shipping. You can also pick up your order in stores for free if it is over $15 before taxes.
Moosers, Souris Mini is my favorite kids snowsuit brand, what's yours?
(Expiry: 28th December 2015)