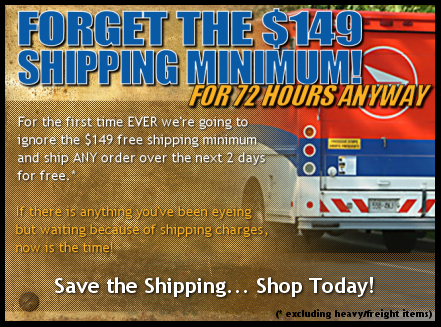 I have never seen this before from BossToolSupply.com! They are offering us free shipping on any order, with absolutely no minimum spend whatsoever! Normally, you need to spend $149 or more to get this service.
It will be active for about 72 hours on BossTools online, so you can get free shipping over the next 2 days. This might be a great time to purchase some of the offers that they have on their website, where the shipping charges would have previously killed the deal. (I think they still have a small handling fee, which isn't very high at all though)
If you've never bought from BossTools before, you can make this deal even sweeter – here's how:
Where: Online @ Boss Tools
Coupon Code: FTV412
Discount: Pay no GST on your 1st order
So, getting free shipping and using a new account, you can save yourself a few more bucks.
As you may know, they have all sorts of tools for sale, from hand tools to gardening tools. And of course, they stock all the big brand names, such as Makita, Craftsman, or Bosch.
I'm not much of a DIY person, home reno just isn't my bag, baby! But I better not tell my partner about this deal, or he'll be on the Boss Tools website, maxing out our credit cards! For some insane reason, he keeps buying more and more tools, even more of items that he already owns. How many pairs of pliers does one man need!!?
- Anna