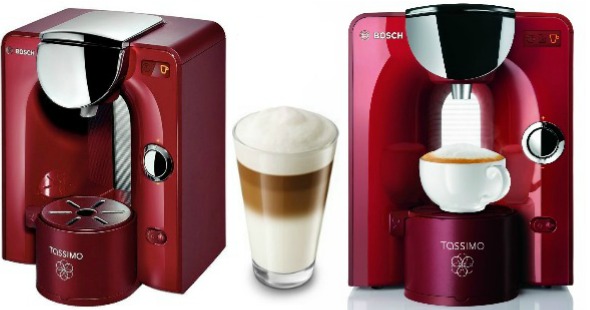 *Bump! This product has had a MAJOR price drop!!*
Why dread Monday mornings when you could wake up and brew a perfect cup of coffee (or other delicious hot beverage) at the touch of a button? While you may not be thinking about Monday yet, you may want to think about this Bosch Tassimo T55 Brewer in red that is on sale at Amazon Canada right now. Instead of paying the original price of $230, you will save 79% and pay just $48.88. Shipping will even be included in this already low price. This would make a fabulous Christmas gift, especially since it is such an affordable price right now.
The Bosch Tassimo T55 Brewer comes in two colours, black and red. While red is the only option on sale for this low price of $48.99 at Amazon Canada right now, I personally find it much more visually appealing anyway. Tassimo brewing machines are the only brewers with the much loved bar code technology. Simply pop in your preferred T-Disc flavour and press the Tassimo's button to brew your perfect beverage. I personally love the Tim Horton's French Vanilla.
With a fully automatic one button operation, it doesn't matter how tired you are. This specific Tassimo brewer even has a 1.4 litre removable water tank which means it will be easy to clean and will not need to be refilled constantly. This T55 even lets you choose between strong and milk which is something my T47 Tassimo does not have.
While the Keurig may have more flavours available to try, I still favour the Tassimo brewers. This is definitely a great price on this Tassimo T55 brewer, I was not able to find a lower price at any Canadian retailer. Other retailers seem to only have the black model.
Out of 97 reviews on Amazon.ca, this red Tassimo T55 Brewer still holds a strong 4.5 star rating. That's pretty good. Amazon Canada will also throw in shipping for free, since this product is over $25. Not only will you get free shipping, but Amazon.ca usually gets your order to you rather quickly. If you were to order this Bosch Tassimo T55 brewer now, you could expect to receive it in just two business days. Not too shabby.
(Expiry: Unknown)