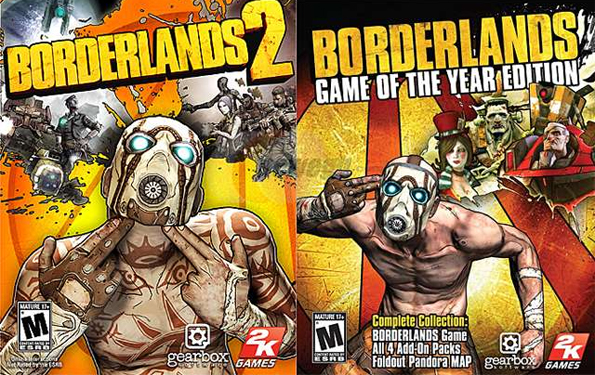 I blogged a hot video game deal earlier, Fallout New Vegas from uPlay. And I've stumbled on another hot video game deal for the PC. This time, it's the Borderlands 2 and Borderlands: Game of the Year Bundle Pack. The regular price of this video game bundle is $49.98 but you can save $39.99 at Newegg.ca now – the digital video game bundle is priced at only $9.99!
As I said above, this is a digital bundle. You won't be getting anything shipped to your home, you will just get the game codes to download and install these games on your PC. As far as I can see, you'll need to download Steam to enable you to play this.
Just for your information, this video game bundle at Newegg.ca doesn't give you all the potential Borderlands DLC and content. There's some additional DLC for Borderlands 2 which isn't included… you might want to consider adding that at a later stage.
I'm a HUGE fan of the Borderlands PC game franchise! When the first game was released about five years ago, I was an avid fan and played it every evening and weekend for months and months. I enjoyed it immensely because I played it co-op with my partner and we used to have great fun completing all the missions together. The only real problem I had at the time was that I was pregnant… so an extended session of Borderlands usually resulted in me throwing up. But it was worth it!
Then funnily enough, when Borderlands 2 was released, I was pregnant with my second baby. There was still a bit of throwing up but not nearly as much as the first time round. I didn't get quite as addicted to Borderlands 2 as much as I had been to the first edition. I don't think the gameplay was quite as good fun…. But it was still a pretty entertaining game.
Price Comparison!
While it is a little hard to price compare this PC video game set because it's a bundle, we'll see what we can do to show you how good the price from Newegg actually is. On Steam itself, here is the price to buy the individual components:
Borderlands GOTY - $29.99
Borderlands 2 – $19.99
Therefore, the total to buy this set through Steam right now would be $49.98 – and you're getting it for a measly $9.99 through Newegg. More price comparisons:
EBgames - $19.99 plus $29.99 = $49.98
Amazon.ca – $11.99 plus $14.43 = $26.42
Definitely the best price from Newegg!
(Expiry unknown)