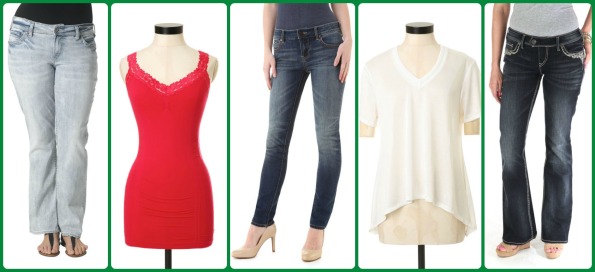 Bootlegger stores are a lot of fun. They carry quite a few of my favourite brands like Jack & Jones, Buffalo and more. During their Black Friday Canada 2015 sale (which is live now) they are giving you 40% off everything site wide. The Black Friday discount even applies to sale items, which means you can pay as little as $1.79 for stylish clothing and accessories for men and women at Bootlegger.com. You don't have to worry about entering a coupon code even - the discount is applied in your cart. Spend $50 to get free shipping or have your purchase shipped to your local Bootlegger store for free with no minimum purchase. Plus if you have a Bootlegger card you will save an extra 10% off your purchase - woohoo!
So I headed right to the sale section of course, since the Bootlegger Black Friday discounts even apply to already reduced merchandise. There are items as low as $2.99, which means with the discount you can pay as little as $1.79. 
The Dex Loose Fit V Neck Tee for women is definitely an awesome bang for your buck. It comes in two colours; Grey and Ivory. Regularly it was priced at $39, and is now on sale for $9.99. With your 40% discount you will pay just $6! Plus most sizes are still available in this shirt - in both colours. You can also snag the Buffalo Casy Logo Tee for the same price.
The Floral Print and Printed Pack of bobby pins caught my attention - if you need a filler item to get to $50 they are perfect. These bobby pins have adorable prints on them and they can make any hairstyle a little more spunky. They were originally $9.90 and are on sale for $2.99. With your Black Friday discount of 40% off at Bootlegger you will be left paying just $1.79 per pack of these adorable hair pins.
All shirts aside though, there are some real discounts on denim. Do you like Silver Jeans Co? Check out these Silver Jeans Co Low Rise Boyfriend Jeans. These jeans were $98 and are on sale for $49. During this Black Friday promotion they will be just $29.40. What!? Don't worry if these jeans are not available in your size. You can narrow the selection to show only items with your size left, and the selection looks quite promising.
Bootlegger Card holders will receive an additional 10% off their purchase. It doesn't sound like much but I will take any extra discounts I can get. The Bootlegger Card is $10 and it will save you 10% on everything you buy for an entire year. So if you are a frequent shopper at Bootlegger stores or Bootlegger.com then this card is definitely worth it. My card paid for itself in my first purchase with the savings I got.
If you order before December 16th your purchase will definitely arrive in time for Christmas. Plus during the Holiday season Bootlegger.com is offering free shipping on all orders over $50. If you don't quite spend $50, you can also opt for free shipping to your local Bootlegger Canada store for free with no minimum spend.
(Expiry: Unknown)