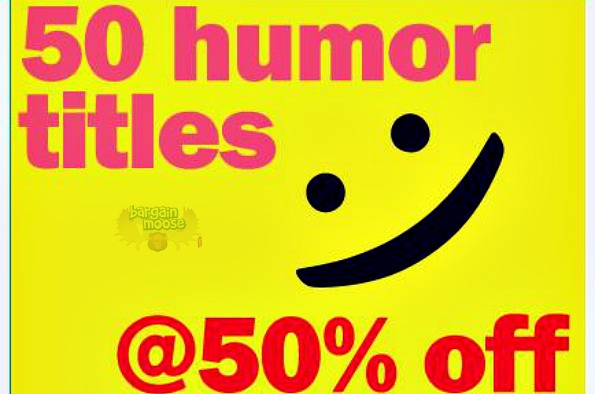 Today starts another two weeks of the Bookcloseouts Canada 50/50 section.  This time around, all of the titles are from the humor section.  They have books on sale as low as $0.99 for a limited time only.
Here are some of the deals you will find with this sale:
The Bart Book (Simpsons Library of Wisdom): was $2.99/ now $1.49 (original list price was $9.95), Save 85%
 Are You There, Vodka? It's Me, Chelsea: was $4.99/ now $2.49 (original list price was $16), Save 84%
 Animals Behaving Badly: was $3.99/ now $1.99 (original list price was $13.95), Save 86%
 I Can't Remember If I'm the Good Sister or the Evil One: was $1.99/ now $0.99 (original list price was $9.99),  Save 90%
All of the books included in this 50/50 sale have to do with humor.  These types of books are great for Father's Day gifts, which is coming up in a couple of months.
As always, you can use any of the Bargainmoose exclusive BookCloseout Canada coupons to save you additional money: bmoose_5off will save you an additional $5 when you spend $35 or more, bmoose_10off will save you $10 when you spend $65 or more and bmoose_20off will save you $20 when you spend $120 or more. You will also need the password bookcloseouts to use these coupons. There is no expiry date for these Exclusive coupons and you can use them as many times as you would like.
(Expiry: two weeks)