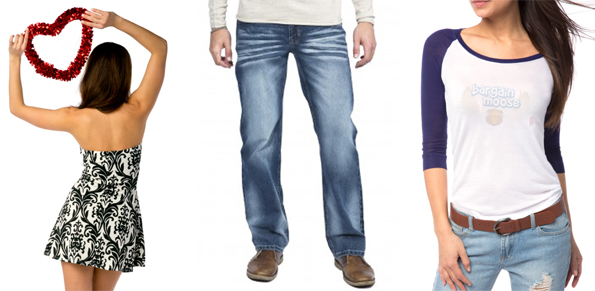 It's Valentine's Day today, and Eva has been a busy bee setting up some exclusive Valentine's coupon codes for a number of top stores in Canada, here. One more exclusive deal is this one from Bluenotes, which we felt warranted a blog post of its own, as there are quite a few good deals to be had. Firstly, this coupon code will give you an extra 10% discount on any items on site, as well as free shipping with no minimum spend!
Click here to use the Bluenotes coupon code online now
CouponCode: MOOSELOVE
Discount: 10% off ANY order
Expires: 14th February 2015
With this Bluenotes coupon, you can take 10% off any items and also get totally free Canadian shipping on your order online for one day only – Valentine's Day 2015. You'd normally be charged a flat rate of shipping depending on your spend - anywhere from $5 to $10, so this is a great saving. Shipping is typically free on a $50 order, but you don't have to worry about that minimum threshold today.
Deals Available
There are a ton of nice deals and prices on the Bluenotes site with which you can pair this exclusive coupon code. Here's a quick rundown of a few of the standout offers:
So, with the extra 10% discount and free shipping, some of these deals can work out to be really excellent. Just as an example, I popped two pairs of the buy 1 get 1 for 50% jeans into my cart, and you can see the final discount amount here:

The above jeans were originally priced at $25, but with the BOGO deal and the exclusive coupon code and free shipping, the final price is $16.88 per pair (plus tax, of course).
Free Headphones
If you make your order up to $50 or more, Bluenotes will also add a free set of pink headphones, while quantities last. Here's a picture of that freebie:
Bluenotes Active Contest
In a special preview of their new Bluenotes active collection, they're running a contest to win a Bluenotes active wardrobe here. While you're on the site, you might as well enter.