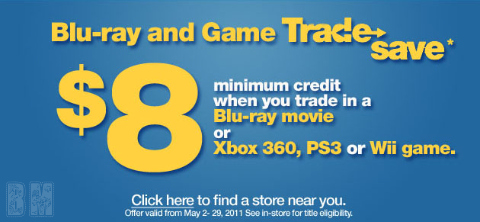 Receive a minimum $8 credit when trading in a blu-ray or a PS3, Wii, or Xbox 360 game. See in stores for title eligibility.
You might also want to phone your local store to see if they are participating in this. Though the advertisement does not mention any stores that are excluded, my local Blockbuster said they aren't doing it. They also said that none in my city were doing it, so I would have to go out to the other towns around to trade-in. The reason they gave was some bylaw which I think is bull because I traded in Blu-Rays at Best Buy no problem.
Deal valid till the 29th, May 2011.