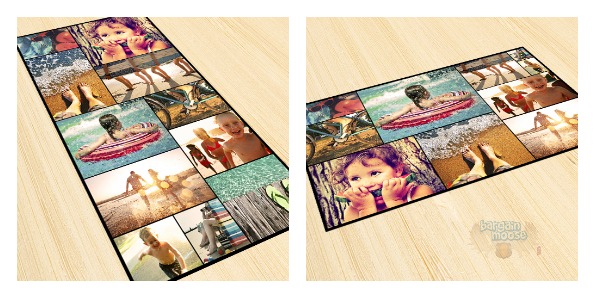 Black's Canada has teamed up with TELUS to offer a free collage size poster worth $19.99. To redeem the freebie, you need to use your mobile app and the coupon code below. Shipping is free either to store or to your home, another $10 value.
Click here to go to Black's Canada now
CouponCode: FREETELUSPOSTER
Discount : Free 14″ x 24.5″ collage poster with 28 images
Expiry: 17th March 2015
Click here for info about the Black's app & where to download it
Note: The in-app price is $9.99 but the website price shows $19.99 as the value of this freebie.
I had to try this freebie out on my iPhone, as I no longer own an iPad. Despite the small phone screen, the BLACKS Photo App is easy enough to navigate. To redeem your free poster, follow these easy steps:
Select the correct collage poster
Enable Blacks to access your photos
Pick the 28 images you want to use
Change out pictures, crop photos (press and hold an image to crop it), and choose boarder colour
Add to cart
There are a few things to note. Before starting, you should download the pictures you want to use to your phone. As this is a mobile offer, you need to use the images stored on your mobile device.
I also highly recommend using your tablet (if you have one) over your phone. Cropping photos on a phone is near impossible because the size of the image is about the size of your fingertip. Rearranging photos also can be a real hassle on such a small screen.
There are two options when you go to checkout:
Pick Up & Pay at Store
Ship It & Pay Now
Even though the first option says pay at store, you still have the opportunity to apply the coupon code online so you will have $0 to pay in store. However, why pay in store when you can have the poster shipped to you free? Select Ship & Pay Now for free home delivery. To find where to apply the coupon, select the three bars (drop down menu) after you have entered your mailing and shipping address. When you enter the coupon code above, the subtotal, tax, and shipping cost all go down to $0.
This is a FANTASTIC freebie because it includes free shipping. For this and any other Black's coupon codes, visit our forum.
Blacks reserves the right to cancel this promotion at any time.
(Expiry: 17th March 2015)