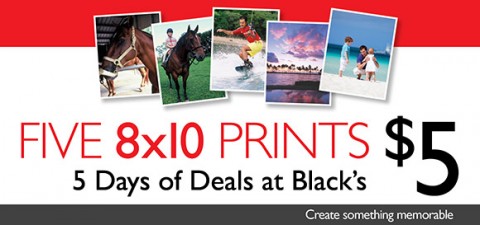 Starting 21 April, Blacks is having 5 days of Daily Deals. Yesterday's deal, get five 8 x 10 prints for $5, runs the length of the promotion, until 25 April. This deal is available in store and online.
The rest of the Daily Deals at Blacks are:
Save 50% on 6X8 Quick Print Books 22 April 2011, online ONLY
Save 50% on 8 x 10 picture frames on 23 April 2011, online or in store
Get a free upgrade to 5 x 7 or 6 x 8 prints for the same price as 4 x 6 on 24 April 2011 only, online
Get a free camera bag with camera purchase on 25 April 2011, online or in store
Make sure to note if the deal is online only or available in store as well.
(Expires 25 April 2011)