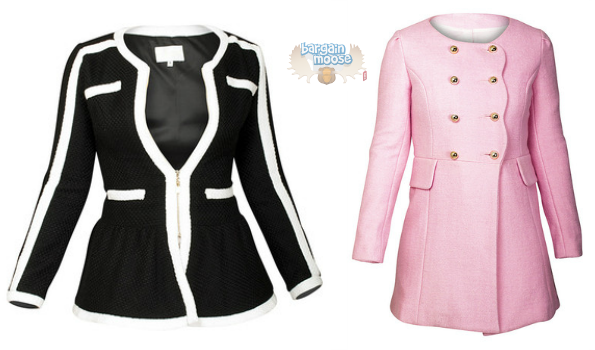 I love when I can find a good structured jacket with a chic twist. Check out the Black Tweed Peplum jacket that was $135, but is now only $47. Free shipping with no minimum is included with all orders at Le Caniche Noir.
Le Caniche Noir has just added some new pieces to the sale section. I love the chic and structured pieces that Le Caniche Noir offers, but their regular retail prices are not in my budget. Luckily for me and you, the sale section is right in my price range.
Take for example the lovely Black Tweed Peplum Jacket. This black jacket with white details would look amazing both as a piece for the office with slacks or with a pair of well-constructed jeans. Add a pop of colour from a basic plain top underneath this jacket, and you have an outfit that looks very chic without much effort.
While they are calling this jacket peplum style, the peplum draping is not as dramatic as I have seen on some dresses or tops. That means you should be able to wear this jacket in a variety of settings without compromising style. Even better, the peplum trend is very flattering to a variety of body types. With a structured top, bold black and white details and movement just below the waist, this jacket will show off some of your best curves. This jacket is currently available in extra small, small, medium and large.
Are you looking for a statement necklace for spring? Check out the colourful Crystal Flower Necklace that was $75 but is now only $26. This beautiful and colourful piece would be fun to dress up a plain top such as a basic maxi dress or wrap top in a solid colour. Make your outfit look more expensive and add this gorgeous piece. I will not tell anyone you scored it on sale. ;)
This pink jacket it so sweet for spring or Easter events. Check out the Pink Double Breasted Coat that was $239 but is now only $83. This would be adorable for a spring photo shoot. You would look smashing at your next brunch event, baby shower or wedding event. This is a very Jackie O or Audrey Hepburn style jacket. It is available in sizes small, medium and large.
It is still cold outside and I am still wearing sweaters. I love the Grey Knit Big Collar Sweater so much that I had to mention it. This sweater was $129.99 but is now only $45. This beautiful sweater is just my style with the soft chunky collar and the sleeves pulled up on the arms. This sweater looks cozy. Curl up with a good book and a cup of tea in this sweater.
These deals will not last forever. Grab your favourite piece while they still have your size. The last time I blogged about Le Caniche Noir, several of the pieces I featured sold out before the end of the day.
(Expiry: Unknown)