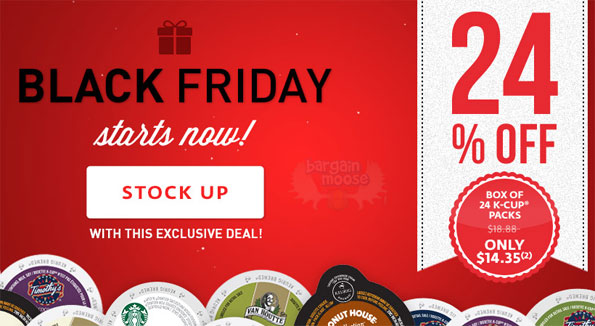 Love the convenience of k-cups? As part of their Black Friday Sale, Keurig is now offering 24% off all of their k-cups!
I go through k-cups like there's no tomorrow as both my hubby and I are absolutely addicted to the convenience of these. Whether you already have a Keurig machine or are planning on getting on during the Black Friday craze going on right now, you're going to need k-cups! Even if you already have a pantry full of these, I suggest taking advantage of this deal because it's always better to take advantage of a deal now instead of paying full price when you need it in the future.
Not sure which k-cups to try? The Donut House collection is a very popular choice and it's on sale for just $14.35 (reg. $18.88) for a bo of 24 k-cups. I tried buying it last year around this time and by the time that I got to the check-out, it was already sold out! It looks like the packaging has been changed though as it used to be a bright pink instead of the brown that it is now. It's a very delicious and addicting coffee. In fact, out of 20 reviews, this coffee has generated a total consensus of 4.6/5 stars with reviews like this on:
Usually I find light roast lacking in flavor and tasting almost watery but that was not the case for this one. The taste is strong but extremely smooth with almost none of that dark roast bitterness
Another one I would recommend is the Van Houtte French Vanilla. It's a light roast coffee with vanilla flavouring that you can now get on sale for $14.35 instead of $18.88. You can also get an iced coffee version on sale for $17.73 (reg. $23.32). It even has better reviews than the hot alternative.
Speaking of which, a couple of days ago I blogged about a deal on the new Keurig Rivo. You can currently get it on sale for $179.99 along with a free pack of Rivo packs and a free carousel. This promotion is on until November 27th and the best part is that if you wanted to pick up an extra pack of Rivo cups, you could get them on sale right now for just $11.39 instead of $14.99.
Shipping is free on orders over $45.
(Expiry: 28th November 2014)