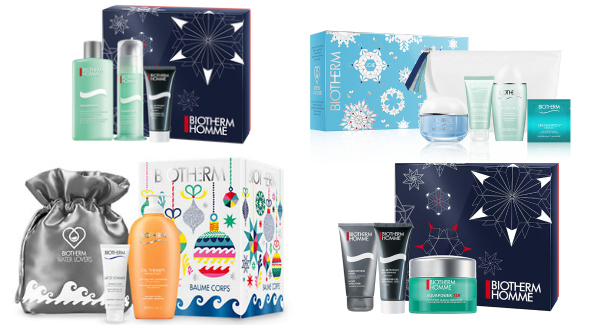 Biotherm Canada is offering free shipping with no minimum and six deluxe samples as a bonus when you place an order online and use the following coupon code. You will also receive two more free samples at checkout (select in your cart). That is a total of eight samples (with six being deluxe) and you receive free shipping worth $7.95.
Click here to shop @ Biotherm Canada now
Coupon Code: SHIPPING
Discount: free shipping & six deluxe samples
Expiry: 15th December 2015
I love this combo of offers because deluxe samples are pretty sweet - they can be almost travel-size samples of a product - and free shipping on any order is pretty rare. Your six deluxe samples are as follows:
Aquasource Sample 15 ml
Life Plankton™ Essence - 30 ml sample
Aquasource Total Eye Revitalizer 3 ml sample
Aquapower 72h 5 ml sample
Age Fitness Eye Advanced Sample 2 ml
Shaving cream - sensitive skin 50 ml sample
If I counted up my 'mls' properly, that is 105 ml of free product not even including the extra two samples you receive at checkout.
While there is nothing particularly on sale at Biotherm right now, these samples and free shipping offers combine nicely with Biotherm's gift sets that start at just $20. The least expensive of the gift sets is the Ultimate Hand and Lips Setat $20. This gift set comes with the Ultimate Hand Balm (50 ml) and the Ultimate Lip Balm (4.7 ml). This gift would be great for either women or men who need a little reprieve from the harshness of winter.
Personally, the Aquasource Cocoon Set caught my eye. I like to cocoon under layers of clothing and blankets come winter, so a set that makes me feel like I am in a cocoon is appealing. This set includes Aquasource Cocoon (50 ml), Biosource Cleanser Normal Skin (50 ml), Biosource Toner Normal Skin (100 ml), and Life Plankton Essence (1 ml) for $49.
These are all special Christmas gift sets; therefore, limited quantities are available. They come in gorgeous seasonal boxes with snowflake decorations. They are pretty to gift as is or you can spend some extra time wrapping them up.