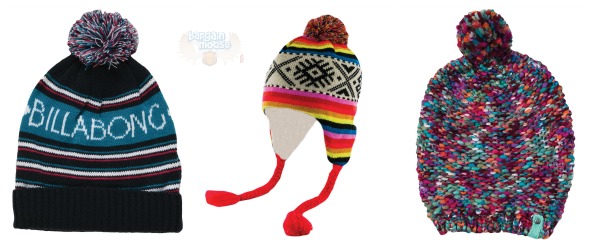 Billabong Canada is offering 50% off a selection of sweet little beanies to keep your head warm this fall. You will also receive free shipping on all orders.
It tis the season for keeping our ears warm if you are anywhere in the northern or western portion of Canada. I think the East is still getting some nice weather right now. I ran across some fun little beanies that are reasonably priced and qualify for free shipping so there is no reason you cannot afford to grab one or two for your front closet.
If you are just looking for a good ol' beanie that does the job for a low price, then pick up the Classic Beanie for only $12.50 (was $25). Choose from black or jade with a cute little pompom on top.
Next up is the super slouchy Karibu beanie with a pom-pom and a couple tassels for extra fun. Pick this little number up in pumpkin spice - a colour combination that will make you dream of pumpkin spice lattes and pie. Originally $28, the beanie is on sale for $14. For the same price, you can purchase the Freedom Ringz Beanie that will certainly turn heads! It is a brightly coloured beanie with blues and purples for primary colours - reminiscent of space.
The Marble Tracks Beanie looks a lot like the Karibu beanie for style with a chunky knit and a slouchier design. The Marble Tracks also comes in two different colours: hot candy or pumpkin spice. Originally $30, the hat is on sale for $15.
My favourite hat of the collection is called Over Our Headzand features rainbow colours offset by a black and white band. I love the thick red braids coming down from the polar-fleece lined toque. For $15 (was $30), this is a very good purchase.
The Misty Moonrize Beanie is similar in style to my favourite beanie in that they are both earflap style toques. The Misty Moonrize is a little less colourful and features Sherpa lining instead of polar fleece. It also has thinner braids. Originally $30, this is a very good deal at only $15.
I really like this deal because all the beanies are $15 and under, which will suit almost any budget. In addition, this is a seasonally appropriate item as we are just heading into the cold season.
All beanies receive free shipping whether you purchase one or more.
(Expiry: Unknown)