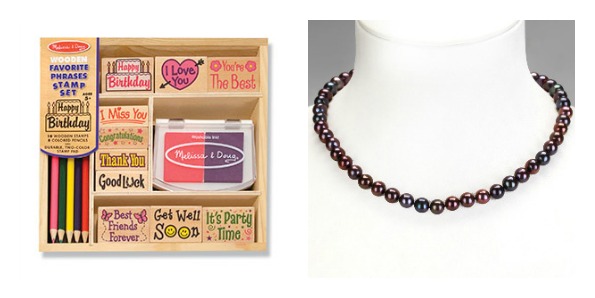 Beyond The Rack is allowing shopping all weekend and pay shipping only once.  Pay shipping on your first order and any other orders will have free shipping until August 20th 2012.
There are a lot of sales this weekend, like the games and educational toys for children by Melissa & Doug, & T.S. Shure.  This wooden pizza was $30 and is now $15. This would be great for kids, it seems so real with six pizza slices, a cutter, spatula and over 50 toppings to play with.  The pizza even makes a slicing sound when cut.
This splendid pearls section has quite the selection.  I like this 8-9mm freshwater pearl necklance in black that was $235 and is now $64.99.  I love the look of freshwater pearls and they will actually match a set of earings I already have.
How about the Best of career dresses with this stunning little Pink Tartan, Leonie dress in orange that was $425 and is now $199.99.  This includes an inner slip just in case you are concerned about the amount of see-through areas.  I love the simple but sleek look to this and the colour is beautiful.
A new handbag might be in order for the fall and there happens to be Luxury handbags on sale.  Now these are a tad expensive, but this Crosby XL shoulder bag in persimmon that was $400 and is now $359.99 matches the dress I mentioned above perfectly.
You might want some accessories like a bracelet from the Jewelry blowout from B&B Couture. I thought this Multi strand braided bracelet in gold that was $12 and is now $6.99.  This is also available in black, silver and white for the same price.
We have to mention the beauty supplies and essentials on sale.  I would definitely look at these Effet 3D lip gloss in #24 that were $16 and are now $7.99.  There are 5 shades available.  You always need a good eyeliner, like this Von Berg eyeliner pencil in Riviera nude that was $15 and is now $6.99.
Shipping: One charge of $11.95 on first purchase this weekend.
(Expiry: 20th August 2012)