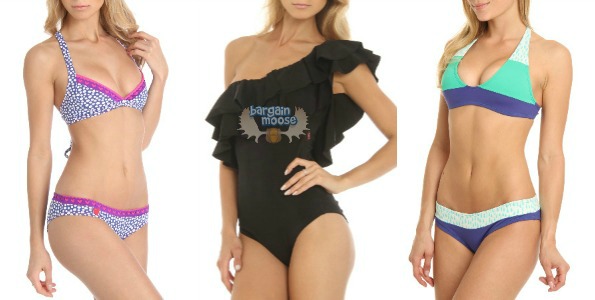 Get up to 75% off designer swimwear from Agatha Ruiz de la Prada, Nicolita, Spanx and more.
It is so hot today, I'd love to put on my bathing suit and go for a dip. First, I'm going to check out these hot numbers at Beyond The Rack.
I was instantly drawn to the Spanx swimsuit line, because if Spanx can do for your body in a bathing suit, what it does for your body under a dress, I'm all in.
This Spanx Khloe one shoulder one piece bathing suit looks like it would be uber slimming! And the one shoulder look is very sexy. Was $178, now $79.99.
This Nicolita Rumba Ruffles triangle bikini top reminds me of sunning on a boat in the South of France. I know I won't be doing that anytime soon, but wearing this bikini, a girl can dream. Was $65, now $39.99.
If you'd prefer a one-piece with that ruffled look (which can be very flattering in the right spots), this Rumba Ruffles one-piececan do the trick. Was $180, now $64.99.
This Agatha Ruiz de La Prada Bubbles bikini set is super cute! Was $120, now $29.99.
Shipping depends on where you live, but you'll pay shipping only once and be able to shop all of the other Beyond The Rack deals with no extra amount paid to shipping on the same day.
Take a look at the Bargainmoose forum, where we can save you an extra $10 off your purchase today too.